Features Quality to Discover the Hidden Story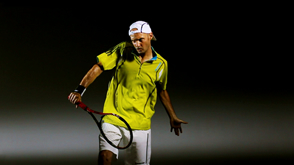 High-Speed Stills
60fps Continuous Still Recording, Up to 130 Shots
Just like the motor drive equipped on SLR cameras, this mode allows you to record stills in rapid succession. Enjoy being able to record 8.3 Megapixel stills at 60fps, for up to 130 shots (about 2.1 sec.). Get sharp, crisp images for every split-second of movement. Capture even fast-paced action as high quality digital stills.
Note: Saving may take some time after recording many continuous shots.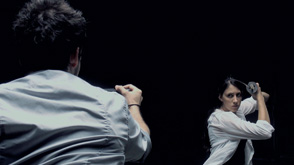 High-Precision Progressive Video
36Mbps Full HD
1080/60p Recording
Videos are recorded at Full HD 1920x1080, but that's just part of the story. Progressive video means that each individual frame is a complete, high-resolution picture unlike interlace. And the 36Mbps high sampling rate means each frame image is filled with more image detail. Combined, these factors allow capturing of blur-less still images from recorded video with one-button ease. You just keep rolling, knowing you can always go back and select your hero shot afterwards.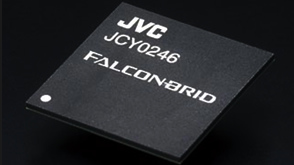 High-Speed Processor
FALCONBRID
™

Engine

At the heart of GC-PX10 is the FALCONBRID™ imaging engine which provides high-speed processing of large amounts of pixel data for both video and stills. The one-chip design helps to reduce size and energy consumption while optimizing efficiency and speed.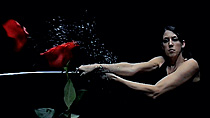 High-Speed Video: 300fps
Recording for Super Slow Motion Playback
High-speed recording enables super slow motion playback, so you can analyze movements that may not be visible to the naked eye in real time. Use it as an effective tool for sports technique analysis and nature studies. What's more, it can be used up to 2 hours straight, so you can record an entire match or game.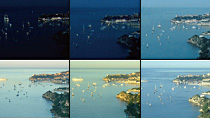 Time-Lapse REC –
Creative Video Recording
Time-Lapse REC records one frame at a time at set intervals (1sec./5sec./40sec.). So you can watch movement that's hours long in just a few seconds when played back. It's great when you want to observe an event that takes place over a long period of time or to record unique-looking scenes in a creative way.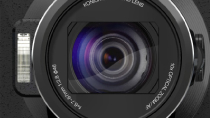 KONICA MINOLTA
HD LENS with
10x Optical/
19x Dynamic Zoom
GC-PX10 uses a new KONICA MINOLTA HD LENS with a 10x optical zoom, and magnifies up to 19x* without any picture degradation thanks to Dynamic Zoom technology.
*18x when Advanced Image Stabilizer set to ON.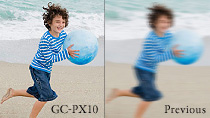 Optical Image Stabilization
with Advanced
Image Stabilizer*
GC-PX10 offers double the assurance of camera shake compensation. First, its Optical Image Stabilizer (O.I.S.) uses prism technology to deliver effective results over the entire zoom range. Added to this, the Advanced Image Stabilizer system capitalizes on the large area of the CMOS to boost image stability in the wide-angle range, such as when you're moving with the subject.
*Especially effective when recording bright scenes at wide angle.

Real 12M Digital Stills with High-Sensitivity ISO6400
The 12 Megapixel CMOS also allows GC-PX10 to record real non-interpolated 12 Megapixel stills. And high-sensitivity ISO6400 enables shake-free crisp images even for low-lit situations. Enjoy recording pristine digital stills with high resolution and sharp details, even if the lighting is less than ideal.
Super LoLux with
Back-Illuminated
CMOS Sensor
GC-PX10 provides superior results in low light environments by virtue of its 1/2.3" 12 Megapixel Back-illuminated CMOS sensor — a type CMOS that effectively avoids the loss of incoming light because its circuitry is moved to a layer behind the photo diodes. This increased ability to gather visual informatio

n
translates into
a brighter, more
detailed image.
K2 Technology for
High Quality Audio
Restores the sound details lost during compression to enable h
igh-quality audio playback that is closer to the original.